Varanasi is a city of great cultural significance. And if you are planning a weekend trip from Varanasi, there are some must-visit beautiful places around the city for foodie and adventurous travellers.
For all the travellers and nature lovers out there, here is a list of 7 places near Varanasi for a perfect weekend getaway.
1.Singu Chuli
Image source
If you want to fulfill your dream of climbing a mountain, this is where you start. The Singu Chuli peak can be climbed by an amateur mountaineer with basic climbing experience. The Fluted Peak, as it known as, is the exceptional expedition style highest trekking peak in the Nepal Himalayas.
2. Bodhgaya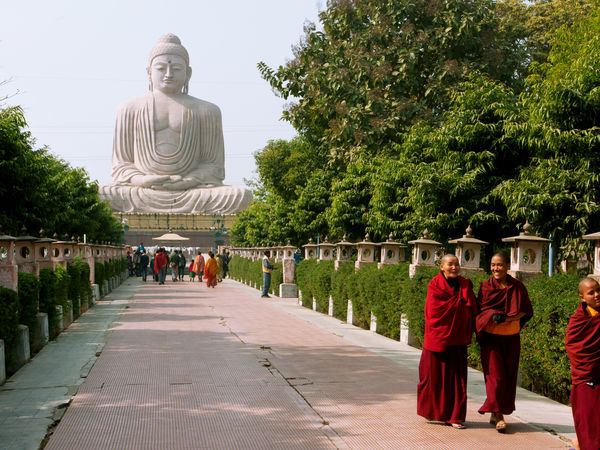 Image source
If you want to explore history, this is the place you need to be. The Famous Mahabodhi temple, which attracts pilgrims from all over the world, is located here. Visitors come here to meditate and relax in the ambience of monastic tranquillity. This is also the place where Prince Siddhartha attained enlightenment beneath a Bodhi tree 2600 years ago and became a Buddha.
3.Kathmandu
Image source
Kathmandu, which is 495.5 km from Varanasi, would make for the perfect weekend getaway. What could be better than travelling to another country for a holiday and a change of mood? The scenic views and the fascinating architecture of the temples in the city will surely be a pupil-dilating experience. Tribhuvan museum, Indra Chowk, Garden of Dreams are some interesting places in the city.
4. Khajuraho
Image source
This town in Madhya Pradesh is the gift of the medieval period and would be the best weekend getaway option around Varanasi. The Hindu and Jain temples here are architectural masterpieces. Every temple is carved beautifully in erotic and aesthetic engravings.
5. Rajgir in Bihar
Image source
This town, with a historic and spiritual feel, is a nature-lover's paradise. It is a place, which is surrounded by rocks in a green valley that can lift anyone's mood. You will find spots dedicated to Buddhism and Jainism here as both Lord Mahavir and Buddha spent time in Rajgir.
6. Bandhavgarh National Park
Image source
Known as the tiger's den, this place was once the hunting ground for maharajas of Rewa. This beautiful forest with lush vegetation abounds in wildlife including tigers, asiatic jackals, foxes, sloth bear, ratel, gray mongoose, striped hyenas, jungle cats and leopards. This place has the highest density of royal Bengal tigers around Varanasi and is a must visit for all the wildlife enthusiasts.
7. Lucknow

Last but not the least, Lucknow . The symbol of Hindu-Muslim harmony, Lucknow has many historic monuments such as 'Imambara' and is also famous for its food and clothing. One can see traces and grandeur of the Nawabs reign in Lucknow's architecture and food.
Knock Knock: For adventurers folks, Singu Chuli is the place or if you are a big time foodie, then Lucknow is a must visit.